Gianfranco Belloni, who founded BePlast in '65 with his brother Luciano.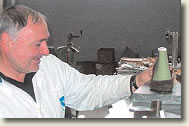 Giuliano Pravettoni model maker and one of the pillars of the firm.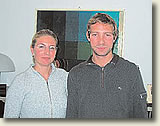 Raffaella and Giorgio Belloni, the new generation running Be Plast.
Personalization, precise and rapid delivery as well as prompt service in advice and in solving problems are the strong points of the firm in Parabiago now run by the third generation of entrepreneurs.
In the 60s the Belloni brothers, called on to run ITABA as the second generation of the management, realized that the firm needed to alter its production structure, limited to wooden heels, and adjust to changes taking place in the sector. In view of this market evolution Be Plast was created, in 1965 to be exact. The firm, established in Parabiago at the heart of one of Northern Italy's most flourishing shoe manufacturing areas, immediately took up the challenge of making plastic heels.
At present Gianfranco Belloni, who takes care of production and management, and his brother Luciano in charge of the technical side of the models and moulds, run a business with over 30 employees in premises of about 3,000 square metres, that produces 15,000 pairs of heels a day. These figures also include Zeninova, the manufacturing unit in Montichiari (in the Brescia province), now part of the Be Plast group, which turns out less expensive items like the faux leather sprayed and pantographed. A leader in the sector, infact, that continues to progress also thanks to an innovative boost given to the traditionof forty years carried on by Raffaella and Giorgio Belloni, third generation entrepreneurs.
Raffaella takes care of administration and sales while Giorgio sees to manufacture and markets abroad. Speaking of markets, today Be Plast exports 10% of its output to Russia, Cyprus, Lebanon, Romania, CzechRepublic, France and the United States, while the bulk of its business is done through close contact with the Parabiago, Vigevano and Brescia area (they are looking for a representative for Tuscany).
The strong points of the Lombard firm are certainly the possibility for clients to work side by side with the modelist and thus create absolutely personalized lines, the speed and reliability of delivery, as well as immediate service of consultancy and solutions to problems. The Cad-Cam systems soon to be adopted will also further upgrade the service.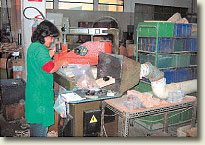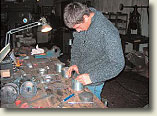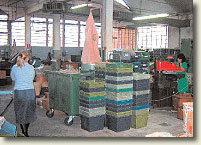 Interior of the production department and the workshop.