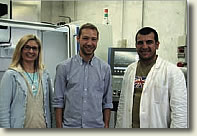 Raffaella and Giorgio Belloni with technician-model maker Luca Donati.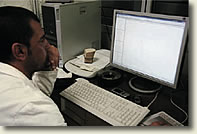 The Cad stage.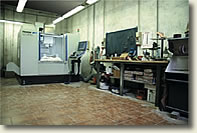 The new workshop for immediate prototyping.
As well as the tradition and experience acquired over 50 years in the sector of heels manufacture, the firm in Parabiago now offers its clients the advantages of advanced technology.
BE PLAST has installed an innovative Cad-Cam system that makes prototyping quick and precise.
The innovation project, greatly desired by Raffaella and Giorgio Belloni, the third generation to run Be Plast, was set up in the record time of only 2 months and already many of the Lombard firm's long-time customers are enthusiastic about the new service.
The Cad-Cam technology installed by Be Plast is able to develop and make new models of heels in a very short time. In just twenty minutes a designer can see his idea materialize and go back to his studio with an actual heel ready to try out directly on footwear. An incredible saving in time and energy, taking into account the speed with which collections have to be prepared today. The new method can develop heels, wedges and soles in wood, resin, plexiglas and aluminium (essential to saving time and costs of making the moulds). Not only that but it also increases precision, offers possibilities of maximum personalization, ensuring total discretion and exclusivity of the model, because the prototype of the heel never enters the firm's production areas.
Then, like all Cad-Cam systems, it offers simple and automatic grading of sizes, as well as the possibility of meeting orders of minimum quantity or a substantial number of prototypes, without the use of a mould. For the future Be Plast is also considering the idea of using the same machine to make the moulds too, which would further extend the production cycle, and create total freedom styles, to offer an even greater stimulus for the model makers.
In fact, if the name Be Plast was already synonymous with quality and expertise, seeing its fifty years experience in the footwear industry, now it is also a symbol of the ability to research and innovate that has always distinguished high-profile Italian firms. Obviously the management of Be Plast focuses on offering an increasingly competent and competitive service to its regular clients, as well as going after new markets.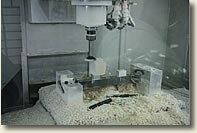 The cutter at work.
The preparation of block of wood.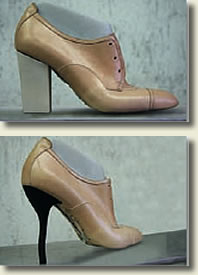 Some heels made by the innovative Cad-Cam method.